For a number of years, we maintained a web gallery of user photos.  We don't currently have one up, but I used my favorites to build the banner for our web page.  This is intended to show a broad range of the different genres and media of doll art in our community.
Nimue, by Pepper Hume
Pepper is always there with an answer, an encouraging word, or constructive criticism.  She was a career costume designer in the field of opera, and is now a member of TAODA, the Texas Association of Doll Artists.  Her dolls show her excellent grasp of costuming.  You can see more of her work at http://dollworx.com/.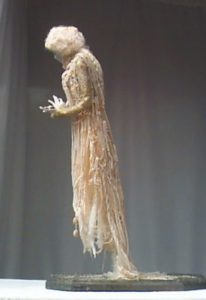 Orpheus by Forest Rogers
Forest was a long-term member of the discussion list, although we haven't seen her in a while.  She is a member of NIADA, the premier dollmaking association that is the pinnacle of a dollmaker's career.  I find her pieces haunting.  Her web site is at http://www.forestrogers.com/ and is well worth the look.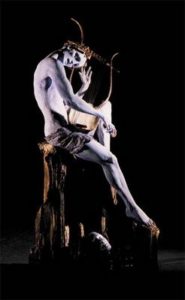 Elle by Selkie Whitebear
Selkie was a long-term and much loved member of the dollmaking list.  She passed away a number of years ago, and is greatly missed. She was one of our few cloth doll artists, although I hope more join.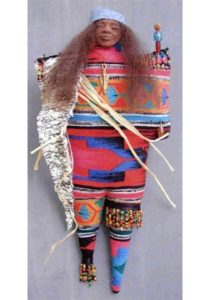 Untitled, by Cynthia Malbon
Cynthia doesn't post very often, but she has been a member of the doll list from early on.  Her dolls combine realism with a rare elegance, and a craftsmanship considered among the top of the field.  She maintains a photo gallery at http://cynthiamalbon.smugmug.com/.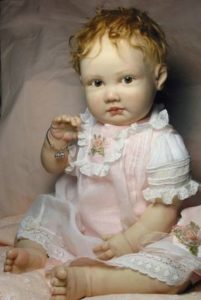 Earth, by Isobel and Vaughan Tyrer
I wish I had a larger image of this beautiful doll to show you.  This is the doll that made me first envision this page.  It haunted me long after I saw it, and when it came time to delete it from the gallery, I couldn't bear to do it. Isobel and Vaugn are two of my favorite artists. Their work is usually historical, and very character oriented.  The pieces often appear like real people frozen out of time.  They have recently retired due to health and eyesight issues.  I wish them the best and hope that there will be more work from them.

Tatiana, by Angela Giovanna Loroux
Angela's work always has a soft, romantic look.  I like the look that this piece has in her eyes, something thoughtful and far away that gives the piece interest beyond its prettiness.  Her website is at http://www.lorouxgallery.com/.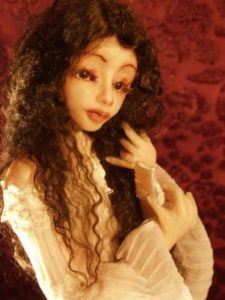 Elijah, by Lucky Stradley
Lucky is another active member of our dollmaking list.  It's been fun to watch her work grow over the years.  Most of her work has been character pieces, but lately she has become famous for her yarn bowls and egg separators with monster faces.  Lucky keeps a blog at http://luckystradley.blogspot.com/.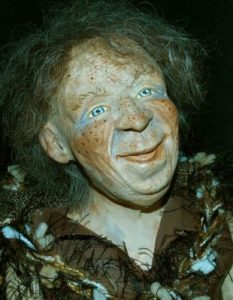 Waiting, by Pat Lillich
This doll is another huge favorite of mine.  Pat has been a member of the list since the earliest days.  She lurked for many years, but recently has grown hugely in confidence as she's started to show her work to great appreciation.  She recently became a NIADA member.  This doll was the winner in our first challenge.  One doesn't think that a doll could be described as wise, but that's the word that comes to me when I look at this beautiful face.  She keeps a website at http://shadows.4oni.com/blog/, where you can see that she is as amazing a person as she is an artist.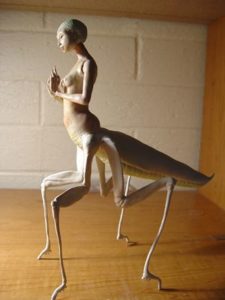 Swan Lake, by Vickie Arentz
Vickie was a dancer and costumer for many years before turning to dolls.  You can see her familiarity with ballet and the human body in this wonderful piece.  While anyone can appreciate the beauty of the doll, it might take another dollmaker to appreciate the skill that went into making a doll this well balanced.  The technical challenges involved in a pose like this boggle my mind.  You can find more information on her at http://www.arentzartistry.com/.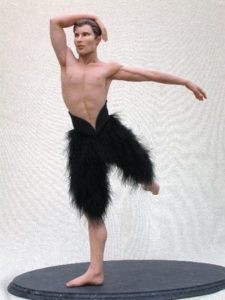 Kim, by Gale Lyons
This one caught my eye for two reasons:  One, that it looks like a classic, traditional doll while still maintaining an artist's touch; and secondly, that it was only Gale's third doll. I was blown away that a beginner could capture the look so perfectly, and I'm always impressed when someone is able to succeed at the two very different worlds of art and toy dolls at the same time.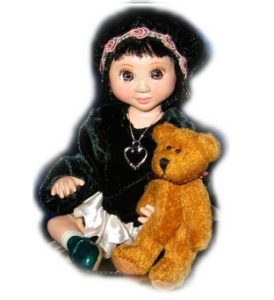 Blue Gargoyle, by Rebecca Schumaker
Rebecca has been very influential to the success of the dollmaking list from the very early days.  She was one of the first serious artists to join, and she publicized the list to her friends and helped establish us as a place where serious doll artists could find a community.  She's always been one of the most supportive of the members here, and I thank her for all that she's done over the years.  I've been thrilled to watch her career blossom.  Her approach to fantasy is worlds ahead of most other artists in terms of sophistication.  See more at http://www.rebas-art.com/.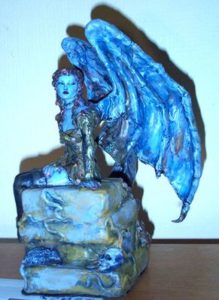 Kopjes by Hannie Sarris
Hannie was one of our Dutch artists.  This lovely piece shows the intersection between traditional dolls and art dolls, with that ethereal touch that Hannie is famous for.  Hannie passed away after a short illness in 2010. Her website is at http://www.hanniesarris.nl/, in both english and dutch.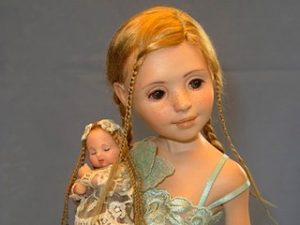 Alainis, by http://www.melissasbabies.com/
Unlike the other artists in this collage, I don't know much about the maker of this beauty.  This baby doll is made of silicone, so she is soft and feels as lifelike as she looks.  It's easy to mistake this for a real baby.  I think that urge to make something so close to a real baby underlies the history of dollmaking.  Her web site is at http://www.melissasbabies.com/, unfortunately no longer online.